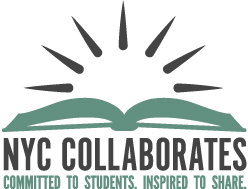 District and Charter Leaders signed a Compact, in December 2010, to work together to provide all children in their communities with a public school education that prepares them with the skills and knowledge to succeed in college and the work force.
New York City's District-Charter Collaboration Compact, signed by the New York City Department of Education and over 85 charter schools to date, is a formal and public commitment to address issues of parity (including enrollment, funding, facilities, and data) between district and charter schools, encourage replication of high-performing models and, most importantly, improve and expand the ways in which district and charters work together and influence each other for the benefit of all students in the city.
NYC Collaborates is an initiative of the City's District-Charter Compact. Through this endeavor, we seek to define and facilitate opportunities for charter and district schools to come together to dispel myths, share information and collaborate.
This is important because we believe that the children living in New York City do not belong to a particular district school or to a particular charter school—they are our mutual responsibility and they deserve great public schools. We are committed to moving beyond the district "versus" charter rhetoric to conversations about great schools versus underperforming schools and how we can work together to improve student achievement.
We don't expect this to be easy – we face a sprawling education system, structural and cultural differences, distracting media, and hectic workloads. We understand that there is a lot to wade through, but we know collaboration is possible. We've seen it happening in schools and communities already. We're committed to expanding upon this work and establishing a culture of collaboration.
---
HISTORY OF THE COMPACT
In 2010 the Bill and Melinda Gates Foundation announced a multi-year initiative to encourage collaboration between public charter schools and traditional public schools to provide high quality education to all students. Nine U.S. cities and their charter schools have signed District-Charter Collaboration Compacts, including New York City.
Learn more about the Compact at gatesfoundation.org »
The Text of the New York City Compact