School and special education leaders wishing to develop and support a special education program quickly discover that the process is filled with many challenges. The NYC Special Education Collaborative, a new non-profit initiative, provides schools with the training, professional development, resources, support and expert guidance needed to create a successful and compliant program.
WHO'S COLLABORATING?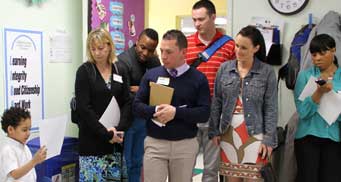 In 2011 a consortium of borough-based special education cooperatives were merged into a city-wide membership organization committed to supporting quality education programs for students with disabilities.
This organization, the NYC Special Education Collaborative, focuses on assisting schools with starting and operating successful special education programs. The Collaborative currently includes over 167 charter schools in the New York City area with active membership of school leaders, special education directors and coordinators, counselors/social workers and general education staff.
BENEFITS OF MEMBERSHIP
Specific benefit details for all four types of membership are available for download here.
Program Support


Dedicated hours of support, technical assistance, NYC DOE advocacy and more!

Conferences


Annual conference admission and seats at mini-conference series with national speakers and more!

Staff Training


Verbal de-escalation and restraint training, monthly instructional training, counseling staff support, discounts to fee-based training and more!

Teacher Recruitment


Career fair table and job postings

Resources


Common Core IEP goal bank access, access to resource library and more!
MEMBERSHIP LEVELS
---
CONTACT US
If you have questions or wish to discuss the Collaborative's programming and services, please contact Dixon Deutsch, Executive Director, at 212-437-8300 or dixon@NYCsped.org.